Giant Gyratory motion sieving machines for classifying De Oiled Castor Cake.
Overview
Galaxy Sivtek designed customized giant round vibrating sieves for renowned edible & commercial oil manufacturing company for de-dusting & classifying De Oiled Castor Cake.
India's leading & renowned edible & commercial oil manufacturers & suppliers dealing in oil & oil affiliated products. The company was into the production of various edible oils like refined cottonseed oil, refined sunflower oil, refined corn oil, refined soyabean oil, groundnut oil, etc. along with commercial products like castor oil, de-oiled castor cake & more.
The client was looking for a robust classifying & de-dusting machine that could help them de-dust & classify De Oiled Castor Cake into three different particle sizes.
De-oiled castor cake is a by-product obtained during the extraction of castor oil. The remaining residues after extraction of castor beans have higher value due to their good commercial demand.
De-oiled castor cake also commonly known as castor meal is used as manure & fertilizer due to its rich content. It has three vital elements – Nitrogen, Phosphorus, and Potassium that are essential for the proper growth of crops. It is also regarded as the most organic & natural manure as it does not decay into the soil.
Requirement & Challenges
Castor meal contains 9-12% of moisture which tends to form soft lumps & agglomerates. These lumps chock the mesh & hinder the production output, as well as wastage in the form of lumps, which is increased.
Also, the dry castor meal had very tinny particles that would lead to a lot of dusting while sorting it into a giant vibrating sorter. Heavy dusting would result in frequent cleaning & maintenance.
The real challenge was to make a vibrating sieve that could overcome the problem of product wastage in form of lumps & a system that would clean the dusting automatically, along with the technology that promotes continuous sieving & classifying process.
Product wastage & mesh choking due to agglomerates formation.
Heavy dusting invites frequent cleaning & maintenance.
Sieving machine that enables continuous process without any breakdowns to reduce batch time.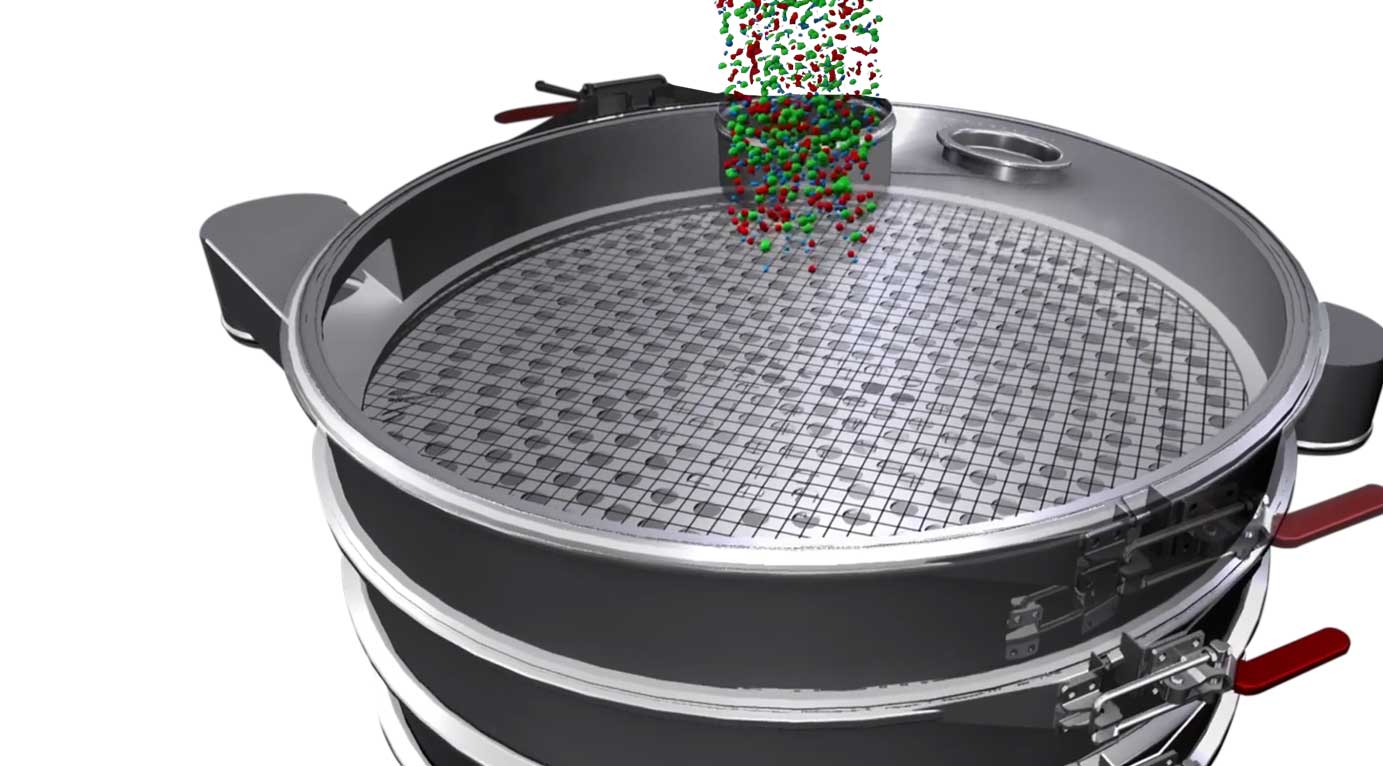 DE OILED CASTOR CAKE
SCREENING
SOLUTION

Solution
Design engineers at Galaxy Sivtek designed two giant and unique double-decked vibrating gyro separators with pneumatic mesh cleaning arrangements on decks beneath the mesh to remove dust through air pressure. To evacuate the dust, the elbow pipes were fabricated on every deck.
The pneumatic mesh cleaning arrangements solved the problem of frequent cleaning due to heavy dusting. The pneumatic mesh cleaning system also enabled continuous sieving & classifying process.
To solve the issue of de-lumping & breaking soft lumps, machines were delivered with Mesh De-blinding Kit (Ball Tray Arrangement).
Mesh De-blinding Kit consists of rubber balls & trays that are placed between a perforated sheet & mesh. Due to the vibration of machines, the ball & trays keep on tapping the mesh & break soft lumps with ease.
Customized double layered (3 grades) Sivtek Super Gyro Separator® with 72" diameter (2 Nos.) helped them to achieve the classification of castor meal with the utmost ease.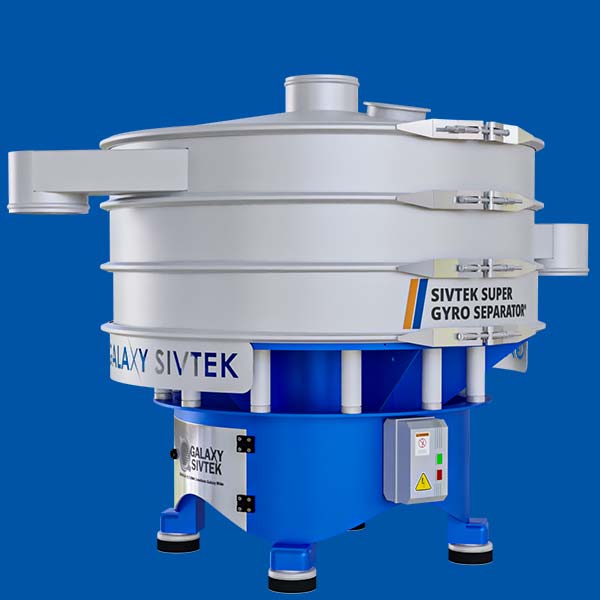 Results
The customized solution provided not just helped them to achieve the desired output but also helped to solve the main issues of cleaning heavy dusting, mesh choking & product wastage.