Grading Masterbatch – Success Story
Overview
We all are familiar with plastic containers, plastic bottles, plastic toys, etc. that come in different colors & properties. Have you ever wondered how to plastic products get their color?
Well, the answer to that is Masterbatch. Masterbatch is an additive that is used for coloring plastic or applying other vivid properties to plastic. Additives can be in solid(powder) or liquid form.
Masterbatch is a highly concentrated mixture of pigment or dyes constituted in plastic resins.
Pigments or dyes are blended into plastic resins & then they are fed into Extruder. The extruder melts the resins & spreads them to create a paste. The paste is then cooled & cut into small pellets. Pellets are then screened & graded to get uniform-sized granules. These masterbatches is then used to make various plastic products such as bath tumbler, water buckets, shampoo & medicine bottles, plastic containers & jars of different colors.
For instance, to make a red masterbatch red powdery pigment would be blended with clear resins.
The below image would help you to understand how masterbatch is formed.
Requirement & Challenges
Manufacturers meet our technical expert in one exhibition & briefed on the issues they were facing while screening & grading (colored pellets) color masterbatch with competitor-made round Vibro separator.
From the discussion, the challenges concluded were Inefficient & inaccurate grading/screening.
After cooling down & cutting the paste into pellets (masterbatch) screening & grading is required to get uniform-sized granules.
During the cutting down of paste not all the granules are of consistent size; so, gradation becomes compulsory. Apart from that dust & powder are also carried away with granules; so, screening is required.
Due to less area for grading & less travel time over the screen efficient grading & sieving were not achieved with competitor-made round separator.
Also, the round Vibro separator was having single coarse mesh & due to single mesh dust & other powder material used to get mix with the final product.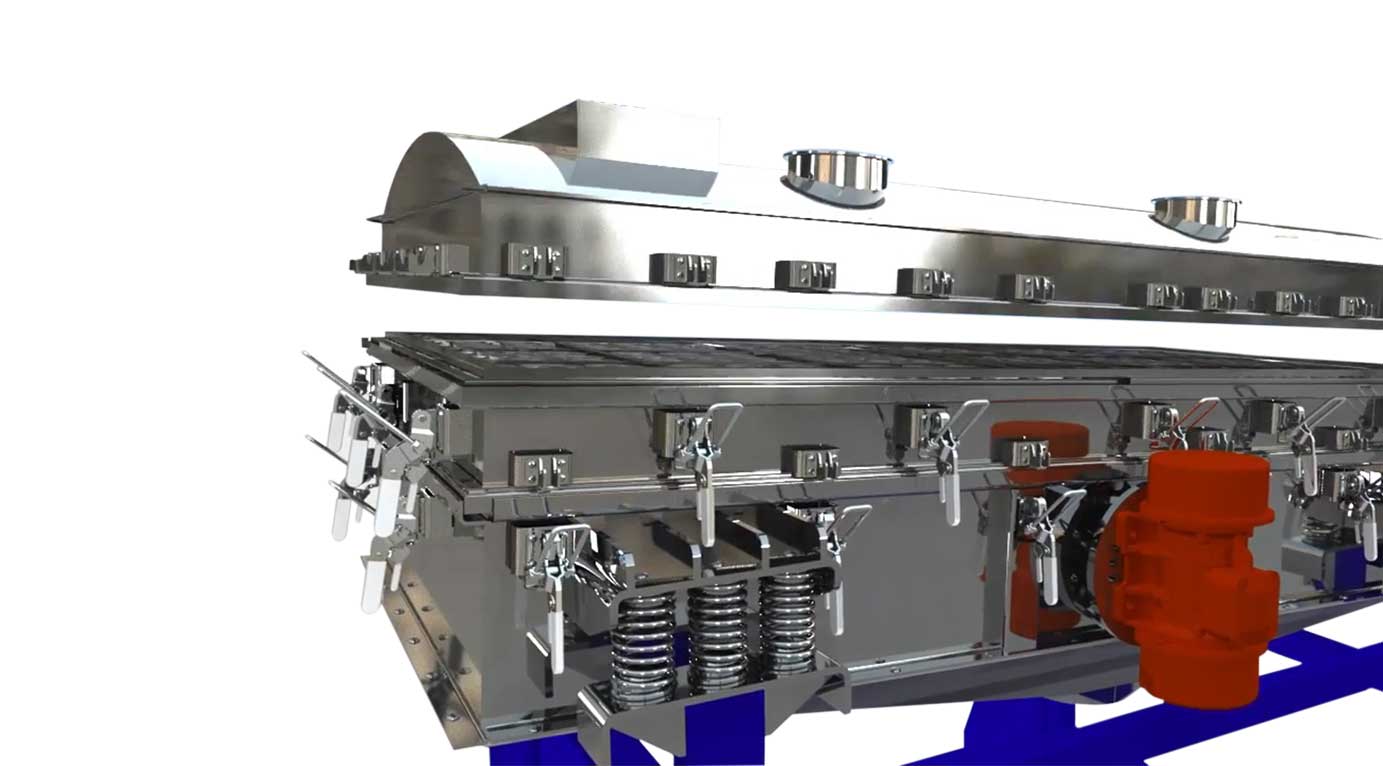 PLASTIC
MASTERBATCH
GRADING

Solution
A technical expert from Galaxy Sivtek explained to the manufacturer how to get rid of the issues they were facing.
Mayank Patel, Sr Manager (R&D) quoted to the manufacturer "As you want to separate & classify oversize from the final product along with removing dust & powder particulates, you will require dual screens. The first screen would be a perforated screen with large & coarse opening that will separate oversized granules & another screen would be comparatively fine as compared to the first screen & that will remove & throw dust & other particulates"
He further added, "For efficient grading & screening, the material should get more time to travel over the screens along with more area & for that Linea Sivtek would be the best fit."
After the explanation & solution given by our technical expert, the manufacturer agreed to install dual deck Linea Sivtek® – The rectangular separator.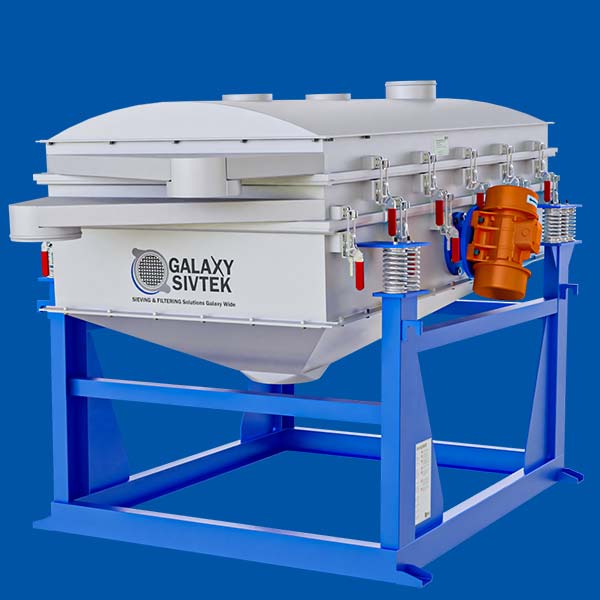 Results
After installing Dual deck Linea Sivtek®, the manufacturer was satisfied as now they were able to separate oversize & remove other particulates along with getting uniform-sized masterbatch.
Our technical expert later visited their plant to know how the machine was performing. During the visit, the manufacturer gave positive feedback saying that "Now we are able to successfully grade masterbatch without facing a problem that we were facing with round Vibro separator, thank you for such a great solution."
Galaxy Sivtek is equipped with years of experience in serving more than 12+ industries. We have built trust with more than 1000+ big brands worldwide with our 24X7 support. Get in touch with our SIVTEK expert any time and we would love to assist you with your sieving and filtering challenges.